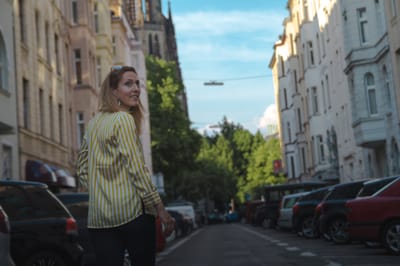 Sally is a freelance flautist and flute teacher based in Cologne, Germany. Born in the UK, Sally studied for her Bachelor degree at the Royal Academy of Music. After time spent as an Artist in Residence at the Banff Centre, Canada, Sally moved to Cologne to study for a Masters degree at the
Hochschule für Musik und Tanz Köln
where, alongside orchestral performance, she continued to develop her interest in the performance of contemporary music, founding the contemporary music ensemble BRuCH in 2013. The ensemble has won 2nd prize at the Karlsruhe Competition for contemporary music, were scholarship holders from the German Musik Competition and have made recordings for WDR, Deutschlandfunk, NDR and SWR. Sally graduated from the Concert Exam degree programme at the Folkwang University of the Arts, Essen in 2017.
Sally has appeared with orchestras including BBC National Orchestra of Wales, Beethoven Orchester Bonn, WDR Funkhaus Orchester, Neue Philharmonie Westfalen, La Orquesta Filharmonica de Santiago and London Contemporary Orchestra. Alongside orchestral playing Sally focuses on chamber music and enjoys exploring different styles of music, feeling at home playing modern and folk music as well as traditional classical repertoire. Teaching forms an important part of Sally's work and since 2016 she has been on the teaching faculty at the
Hochschule Für Musik und Tanz Köln
. She also works as an examiner of Grade Exams for the Associated Board of the Royal Schools of Music. In 2023 Sally can be seen appearing as Mina in the mobile children's opera "Mina oder der Reise zum Meer" produced by Theatre Bonn.
Sally is also a trained yoga teacher and specialises in yoga for musicians. See the yoga for musicians section below for more information and yoga resources!
///////
Die Flötistin Sally Beck wurde in Suffolk, England geboren und hat ihr Bachelor of Music in der Royal Academy of Music absolviert. Danach ist sie nach Köln umgezogen, um bei Robert Winn in der Hochschule für Musik und Tanz Köln zu studieren. In Köln hat sie auch Neue Musik in der Klasse von Prof David Smeyers studiert und hat weiteren Studien in den Bereichen Neue Musik und Kammermusik absolviert bei Barbara Maurer in der Folkwang Üniversität der Künste, Essen.

Sally hat Solo Piccolo beim Orquesta Filarmonica de Santiago in Chile gespielt und ist auch mit dem Beethoven Orchester Bonn und WDR Funkhaus Orchester, BBC National Orchestra of Wales, Neue Philharmonie Westfalen, London Contemporary Orchestra und dem London Steve Reich Ensemble aufgetreten.

In 2013 hat Sally das BRuCH Ensemble für Zeitgenössische Musik gegründet. Im selben Jahr haben die Musikerinnen den 2. Preis des Karlsruher Wettbewerb für die Interpretation zeitgenössischer Musik gewonnen und seit 2016 werden sie durch ein Stipendium des Deutschen Musikwettbewerb gefördert. Sie haben bereits mehrfach Rundfunkaufnahmen für den WDR und den Deutschlandfunk, SWR und NDR eingespielt.

Sally ist seit 2016 als Dozentin an der Hochschule für Musik und Tanz tätig. Sie arbeitet auch als Prüferin für die britische Prüfungsausschuss the Associated Board of the Royal Schools of Music. Im Jahr 2023 ist Sally als Mina in der mobilen Kinderoper "Mina oder die Reise zum Meer", einer Produktion des Theaters Bonn, zu sehen.